Candidate School for the International Baccalaureate (IB)
Beijing Chaoyang Kaiwen Academy is a candidate school
*
for the International Baccalaureate (IB) Primary Years Programme / Diploma Programme and pursuing authorization as an IB World School.
IB World Schools share a common philosophy – a commitment to improve the teaching and learning of a diverse and inclusive community of students by delivering challenging, high quality programmes of international education that share a powerful vision.
*Only schools authorized by the International Baccalaureate can offer any of its four academic programmes: the Primary Years Programme (PYP), the Middle Years Programme (MYP), the Diploma Programme (DP) or the Career-related Programme (CP). Candidate status gives no guarantee that authorization will be granted.
For further information about the IB and its programmes, visit

www.ibo.org
Elementary School - IB PYP
Cultivate independent thinking and learning and a global values system
---
Independent thinkers, lifelong learners, and participants in world affairs are cultivated.
Elementary school teaching materials are based on the knowledge content in the Chinese National Curriculum Standards. Units of learning center around inquiry and exploration guided for classroom teaching and serve as a means to achieve trans-disciplinary learning in six areas. This promotes interdisciplinary links and integration, and brings together knowledge and action.
Who are we?
Exploring the nature of self and forming positive values.
Where do we find ourselves?
Exploring the era we are in and the relationship between individuals and civilization.
How do we express ourselves?
Exploring the way we express our ideas, emotions, nature, culture, beliefs, and values.
How does the world work?
Exploring the natural world and its laws, and the impact of technological development on society and the environment.
How do we organize ourselves?
Exploring the interaction between human institutions and society, and the structure and functions of the organization.
Sharing the earth
Exploring the rights and obligations of human beings who share limited resources with other species.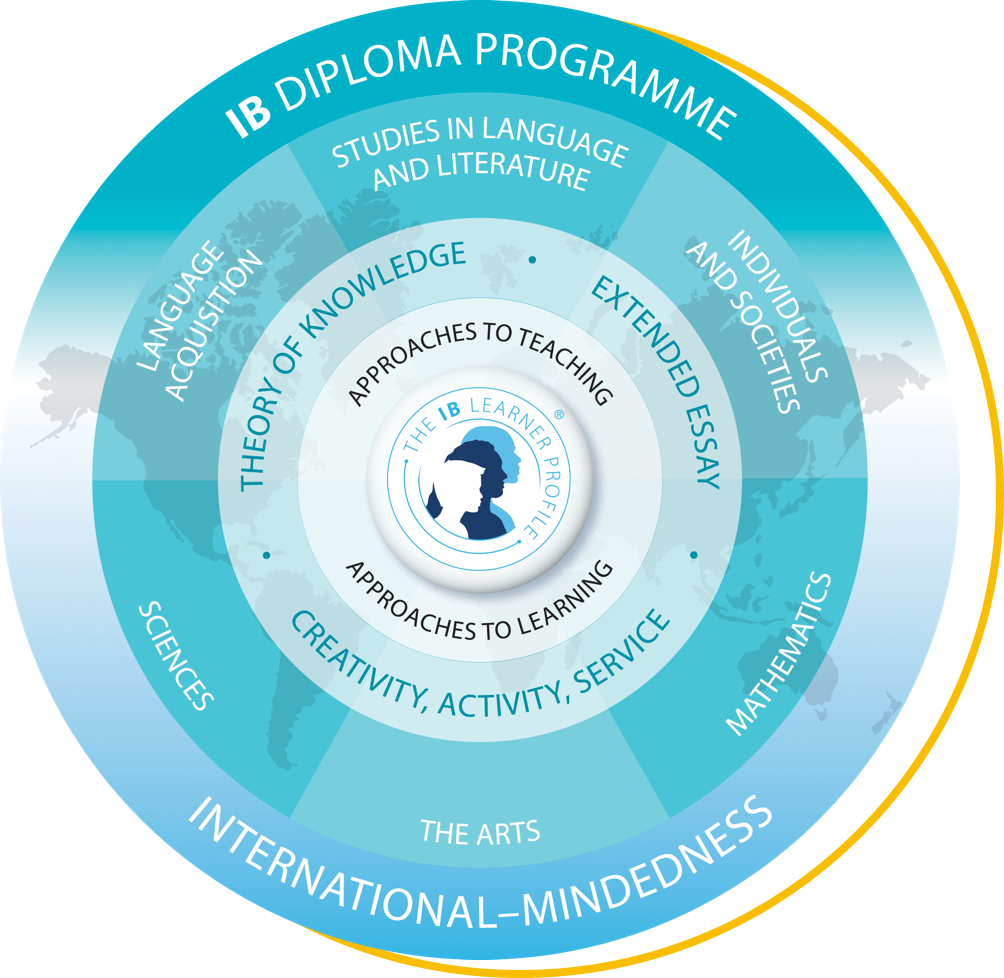 High School – IB DP
Broaden international vision, mine the depths of knowledge, and develop a well rounded education that equips students for a future of opportunities.
---
The IB Diploma Program (DP) aims to help students master the ability to acquire knowledge, comprehensively understand knowledge, and flexibly apply that knowledge in real life. Both the breadth of knowledge systems of literature and language, humanities, science, mathematics, the arts, combined with content depth of the DP courses Both the breadth of knowledge systems of literature and language, humanities, science, mathematics, the arts, combined with content depth of the DP courses. With the help of higher education advisors, students can choose their courses and curriculum standards according to their own interests and abilities in a manner that prepares them for further education.
In addition to six subjects, one chosen from each of six different subject groups covering the great traditions of knowledge, students engage in three core components, namely;
Theory of Knowledge (TOK): cultivates students' critical thinking skill to prevent subjective and ideological biases, and strengthens their capability for rational thought and expression.
Extended Essay (EE): cultivates students' mastery of approaches to research, formulation of ideas, and writing standards and skills for academic papers that are of high academic standard.
Creativity, Action and Service (CAS): provides students with opportunities to combine knowledge covered in class with experiential learning activities, helping them learn to serve society, care for others, exercise organizing and planning skills, and exercise their social responsibilities.