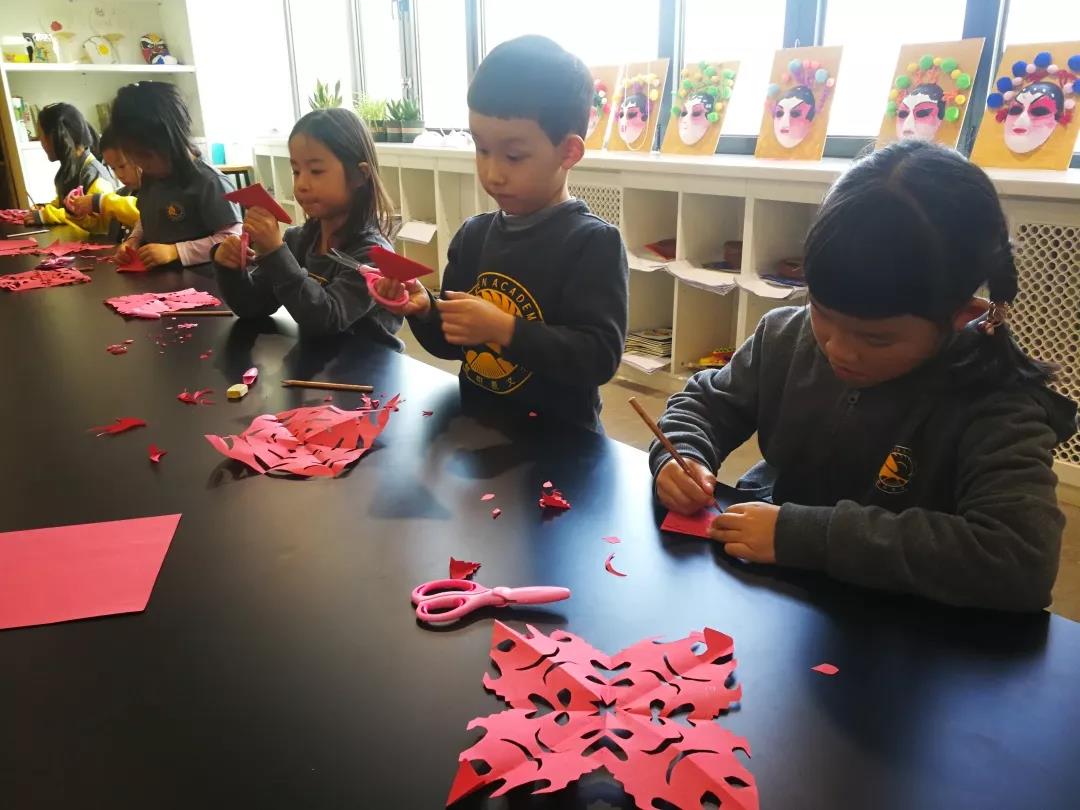 When Chinese children become global citizens, we hope they can boast the confidence of "Chinese Educated".
Chinese Educated means that no matter how far our children go, they all know climbing high at Double Ninth Festival, holding memorial ceremonies for ancestors at Tomb Sweeping festival. Chinese Educated means that our children have the wisdom of life, inherit the craftsmanship from Chinese culture…
To be a school deeply rooted in China, yet building an international education which prepares pupils for a global future
This is the educational philosophy proposed by principal Christine Xu.
Learning Chinese culture cannot only bring people to feel the original world, but also consolidate the emotion to one's home country and homeland. Only when one has thorough understanding about their country can they better participate in international affairs and voice for China.
The way that CKWA shows its philosophy lies in its active Chinese culture class as well as its integration with other disciplines. In the meantime, the experienced and gentle Chinese culture teachers have also made the class even more rich.
"Tang and Song poetry, Beijing opera, history and folk custom, traditional costume…These are all the topics that CKWA students will learn in Chinese culture class." Ms. Meng, Chinese culture teacher in primary school says so.
"Take primary school as an example. There is a math unit, teaching children to understand the conversion among "quantity", such as conversions among "yuan", "jiao" and "fen", the units of RMB. I take "Chinese currency" as the topic of this Chinese culture class. In the class, we talked about the development history of Chinese currency, from shells, the earliest form of currency, to Zhanguo times, then to the unified currency at Qin dynasty, until the gold and bank notes. We talked about why many Chinese characters used "shell" as their partials. Children begin to understand why copper coins at Qin dynasty are designed in round and square shape. They are very intrigued by these history stories."
Children's work about coins
In a grade 2 class, when learning about "who we are", another Chinese culture teacher teaches students the origins of Chinese last names, and let students explain the meaning of their names and design their personal name seal. During this process, children have learnt a lot about seals, including how to differentiate Zhuwen seal and Baiwen seal, and how to make their own seals.
Making their own name seals after learning knowledge about seal cutting
Besides, students also learn poetry in Chinese class, and marvel at China's green mountains and blue waters depicted in the poetry. By appreciating A Panorama of Rivers and Mountains in Chinese culture class, students can taste how poets embed their emotions into the scenery of China, the vast and misty rivers, the overlapping mountains, the pavilions and towers, the thatched cottages and log cabins, the water mills and the long bridges. Ms Meng even brought her jewelries into class to show children how materials such as blue turquoise and lasurite can be ground into pigments and maintain the shining color of the paintings even after thousands of years. In addition, teacher inspires and encourages students to think independently. If A panorama of Rivers and Mountains and Dwelling in the Fuchun Mountains are both historic masterpieces, what are the differences? What are the differences between colored Chinese landscape painting and ink landscape wash painting? How to handle the coloring? What are the features of the artistic works from Song dynasty of Emperor Huizong?
Explanation and lecture alone may not be enough for children to understand Chinese culture. Only when they have hands-on experience and participate in the activities can they feel the exquisite beauty of the Chinese culture that transcends the time. This experience will also cultivate the time-traveling empathy of children. This kind of creation is not confined to format and materials, while children can relentlessly explore and experience the pleasure of study.
Through the study of the costume of minority ethnic group, G2 students learn Chinese geography, know the location of different provinces, and understand that China is a unified multiethnic country constituted by Han ethnic group and 55 minority ethnic groups.
Ms Meng Xuefei has worked in international education industry for 17 years and accumulated rich teaching experience. She is very knowledgeable in Chinese culture, and flexible and creative in teaching style. "I like Chinese culture very much since I was a child. It gives me a sense of achievement to learn and understand Chinese culture. I have worked in international schools for many years, hoping to bring art theory and western teaching experience to our class to try more methods in class."
Ms Shi Guodan, another Chinese culture Teacher, has more than 5 years of teaching experience in IB arts, and has successfully led students to hold arts exhibition many times. She began to study drawing since she was young. She hopes to deliver the arts knowledge and views to students through various forms of art course. By leading students to feel, spot and create beauty in life, she guides students to use varied forms of arts to express their feelings and thoughts, and solve real problems in routine life. In her class, she boldly explores and experiments, and use different materials to make rich and interesting works. "I believe everyone is an artist; every child has their shining point; children are the creator and designer of their own life. I believe that I can help children to grow healthily and happily by joining hands with parents."